Explore in comfort.
Private Chauffeur Sightseeing Trips
If you are apprehensive about hiring a car but want to discover all that Malta has to offer from the comfort of a station wagon (1-4 passengers), people carrier (6-8 passengers) or minibus (9-17 passengers), Drifter has the answer for you. Explore Malta at your own pace by taking a private chauffeur sightseeing trip with your family and friends, and let our driver take you wherever you like on Malta and Gozo. With unlimited mileage on your side for the length of the trip, you can stop at any of Malta and Gozo's sights in any order you like.
In order to aid you with planning your itinerary, we have set up the below list based on the most popular destinations according to our clients. Feel free to choose or add destinations as you see fit and at no extra cost:
Hal-Saflieni Hypoguem – a wonder of the prehistoric world, the Hal-Saflieni Hypogeum is an underground burial site dating as far back as 4000 BC and contains cave paintings which are among the oldest of its kind. Buy your tickets here http://heritagemalta.org/museums-sites/hal-saflieni-hypogeum/ to avoid disappointment.
Mdina – Malta's old capital city, Mdina is steeped in medieval history and was featured numerous times on the Game of Thrones T.V. series. Visit our Mdina page here to learn more.
Marsaxlokk – a sleepy fishing village in the south of Malta, Marsaxlokk is well-known for its seafood restaurants, Sunday market (08:30 till 14:00) and colourful, traditional Maltese boats; ideal for an afternoon lunch.
Rabat, Gozo – a similar proposition to Mdina, Rabat is a fortified, medieval citadel boasting commanding views of the entire island. If you don't visit Mdina, make sure you don't miss out on this.
Valletta – Malta's capital city, parts of Valletta have recently undergone a makeover following its appointment as the European Capital of Culture for 2018. Enjoy the old and the new as you explore all that the city has to offer. Be sure to visit our Valletta page here to learn more.
Ggantija Temples, Gozo – Like the other megalithic structures that can be found on Malta (the Hagar Qim, Mnajdra and Tarxien Temples), this free-standing wonder is older than Stonhenge. If you don't make the trip over to Gozo, make sure you visit Haqar Qim; it is equally as impressive and is within walking distance of the Blue Grotto.
Blue Grotto – Enjoy a brief boat trip as you explore seven caves surrounded by crystal clear water and a light display within the famous grotto. Read more by following this link: https://www.maltauncovered.com/points-of-interest-places-to-visit/blue-grotto/
Terms and conditions
*Please note that ferry charges, including the fare for the vehicle and driver, will apply when travelling to Gozo. Further information can be attained from https://www.gozochannel.com/en/fares-ticketing.htm or by emailing us at info@drifter.com.mt.
**Private Chauffer Sightseeing Trips must be booked for a minmum of four hours
Back
Chapel of St. Mary Magdalene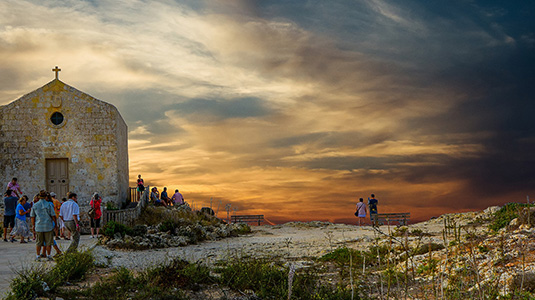 Typical Maltese Facade