History
On holiday in Australia, Drifter's founder and now managing director (John Borg) was sitting in a Chrysler Drifter - a 1977-issue, Australian panel van - at a drive-in cinema. It was the first time he had headed out in a car since getting his license and he felt compelled to share the experience. The idea of setting up a cab company came to mind. The name of the movie he was watching was Grease. Luckily, the name Drifter stuck with him instead.
In the early years, Drifter started out with one car, a black Ford Consul. The car was bought after John - then 21 years old - loaned the money from his father, who, being a third-generation farmer, was concerned that his son would not be following in his footsteps. Despite his father's reservations, John's company quickly grew in reputation for being reliable and always available. It was one of the first cab companies to be open 24 hours a day, and the small size of the fleet meant that the vehicles were clean and well-maintained.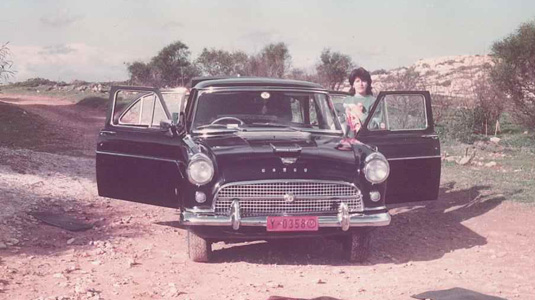 Marthese, John's wife, and Drifter's first car, a black Ford Consul. Circa 1983.
Although our fleet has since grown in size, Drifter still shares the same ethos as it did when it was founded: to share the thrill of the open road and to deliver the best possible service to our clients and partners without any reservation. With over 35 years of experience, Drifter's team of dedicated drivers, hotel representatives, car hire specialists and cab coordinators are here to make your journey a pleasant one. We look forward to being of service to you.