The fortified city of the North.
Shhh... Mdina, the silent city
Perched atop the island's highest plateau, Mdina is a medieval citadel that dates back to the 8th century B.C. and once acted as Malta's capital prior to the construction of Valletta, Malta's current capital city. A palimpsest of different architectual styles, Mdina and its surroundings bear the fingerprints of its distinguished occupants over the centuries. The Domus Romana, an aristocratic Roman townhouse, and St. Paul's Catacombs, an intricate network of tombs built in secret by Catholics during Arab rule, are both hallmarks of this.
The name 'Mdina' has also been subject to the passage of time. Originally christened 'Maleth' by Phoenician settlers in antiquity, the name would evolve to 'Melite' under the Romans, and 'Medina' during Arab occupation. The pronunciation of its current form escapes many vistors to the islands. Say 'Im-dee-nah', and you might just impress the locals.
We strongly recommend visiting Mdina and the neighbouring village of Rabat (which is within easy walking distance) during any time of day. The duration of your visit will vary depending on how much you treasure medieval history and baroque architecture, but the citadel's sprawling vistas of the island are a treat in themselves. Coupled with a selection of some of the island's best cafes and restaurants, Mdina is a fusion of food, culture and history that is thoroughly Mediterranean and not to be missed.
Did you know?: Mdina is known by locals as the Silent City due to the fact that no cars are allowed within its walls.
Top tip: Experience neighbouring Rabat like a local – tucked away in one of its side-streets is the Tas-Serkin pastizzeria. There, sample one of Malta's delicacies, 'pastizzi' - warm pockets of flaky pastry filled with ricotta cheese or peas.
Key sights: Domus Romana, St. Paul's Catacombs, St. Paul's Cathedral, Natural History Museum, St' Paul's Catacombs.
Recommended duration: 2-3 hours; 4 hours for history-lovers
Back
WORLD HERITAGE FORTIFICATIONS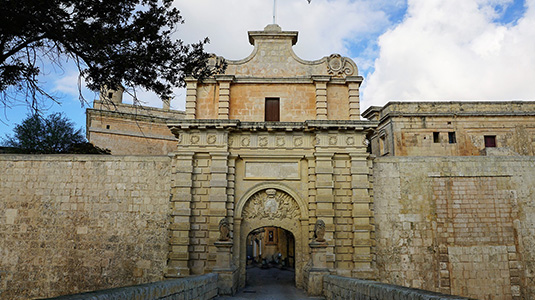 THE SILENT CITY'S GARDEN