The City built by Gentlemen for Gentlemen
Welcome to Valletta
Like Mdina, Malta's old capital city, Valletta bears all the features of its storied history on its sleeve. Founded in 1566, the city may owe its Baroque architecture and name to the knights of the Order of St. John, but the Neoclassical stamp of the Royal Opera House (now in ruins, but re-purposed as an open-air theatre) and the Victoria Gate are wholly British. This interplay of baroque and neoclassical is the beating heart of the city and whether you are marvelling at Caravaggio's 'The Beheading of St. John the Baptist' in St. John's Co-Cathedral or shopping in Republic Street, there is something in Valletta for all tastes and ages.
Valletta is also an unmistakeably maritime city. After a brief French occupancy between 1798 and 1800, the British took charge of the island and - although unsure of the island's value at first - soon gleaned the importance of Valletta's natural harbour. Instrumental in stopping the Nazi campaign in Africa during the Second World War, the Grand Harbour is now one of the busiest ports in the Mediterranean and is popular with tourists due to the Valletta Waterfront, a promenade lined with shops, restaurants, bars and cafes.
In preparation for the stewardship of the European Capital of Culture in 2018, Valletta underwent a significant makeover, regenerating parts of the city that had previously been left to waste. Nowhere is this more clear than in Strait street, once a bawdy haven for British sailors and Maltese musicians, and now a hub for bars and cafes that are faithful to the period they owe their history to.
Did you know?: The Romantic English poet, Lord Byron, who famously played a role in Greece's War of Independence, disliked the steps that line Valletta's side-streets. Upon his departure, he famously wrote: "Adieu, ye cursed street of stairs, how surely he who mounts you swears."
Top tip: The Upper Barakka lift (located near the Auberge de Castille) connects the upper part of the city to the harbour – use this to your advantage to explore all that the city has to offer.
Key sights: Upper Barakka Gardens, Valletta Waterfront, Strait Street, National War Museum, St. James Cavallier, St. John's Co-Cathedral
Recommended duration: 5-7 hour
Back
The Grand Harbor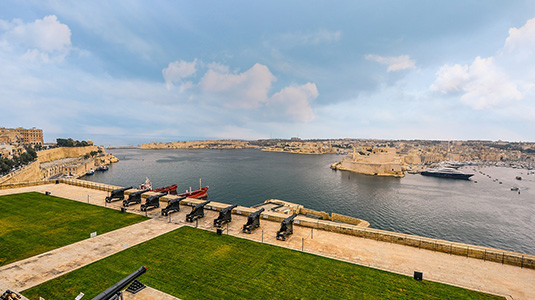 UNESCO Heritage